A Big Hand of Applause for Our 2023 Summer Interns
ITASCA Minneapolis would like to extend our sincerest thanks to our 2023 summer interns (Madison Haydn-Myer, Nathan Stearley, Luis Gomez De Alba, and Mustafa Can Süner) for their hard work and dedication. As another summer ends, we want to acknowledge their enthusiasm and contributions to the team. We wish them all the best as they continue their university education and research. Your hard work and commitment did not go unnoticed. Thank you again for being a valuable part of our team.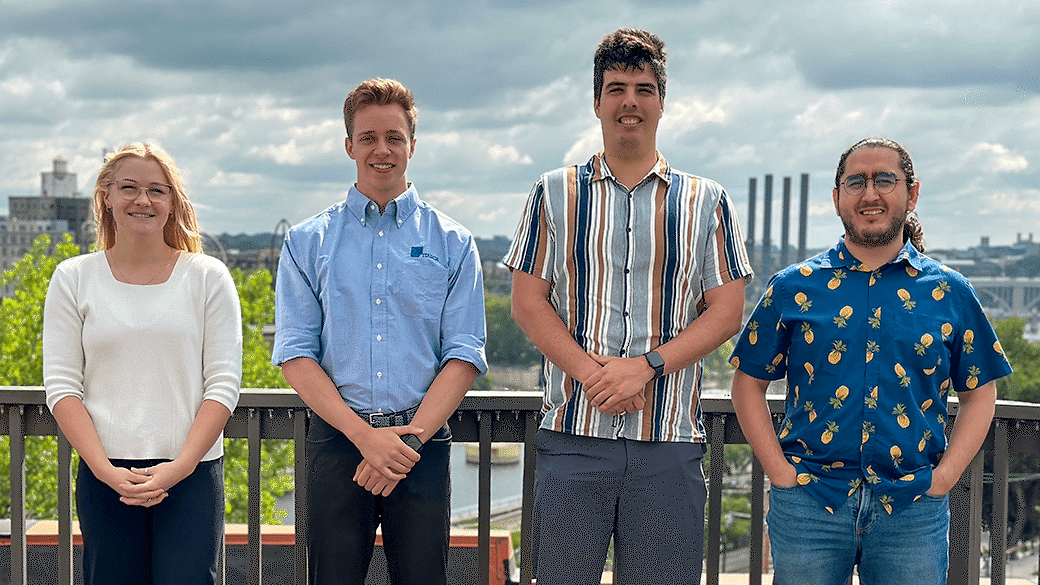 Madison Haydn-Myer
University of Minnesota | Montana Technological University
Madison Haydn-Myer graduated from the University of Minnesota – Twin Cities with a Bachelor's in Geoengineering. She will be starting her Master's in Geological Engineering at Montana Technological University under Professor Mary MacLaughlin this fall. Madison's research will focus on slope stability and dynamic movement.
She has been working with the machine learning group led by Chris Thielsen and Jason Furtney. "Together, we're developing geomechanics web apps that harness the power of machine learning and numerical modeling. It's been a fascinating journey of learning and innovation!"
Nathan Stearley
University of Minnesota
Nathan Stearley is an undergraduate student at the University of Minnesota, where he is specializing in Computer Science and Business Management. Currently, he is applying his academic insights as a software engineering intern, training and deploying AI models to streamline software support for users. His past experiences include serving as a teaching assistant in computer science classes and conducting research in Swarm Robotics.
Looking ahead, Nathan is preparing to tackle a research project focused on tracking global surface water through data analysis using extensive machine learning pipelines. Post-graduation, he aims to work in artificial intelligence or cloud computing. Combining his strong theoretical foundation with his commitment to practical applications.
Luis Gomez De Alba
Dalhousie University
Gomez De Alba is currently pursuing his MASc in Rock Mechanics at Dalhousie University in Nova Scotia, Canada, under the guidance of Dr. Andrew Corkum and Dr. Navid Bahrani. His research involves using numerical modelling tools to predict excavation damage zones around underground excavations in brittle rock for deep geological repositories. He graduated with a bachelor's degree in mineral resource engineering from Dalhousie University in 2022. Now, Gomez is gaining practical consulting experience and enhancing his numerical modelling skills as part of the mining-focused consulting team at Itasca. His work mainly centers around slopes with complex hydrogeological and geotechnical conditions.
Mustafa Can Süner
West Virginia University
Mustafa Can Süner is a PhD student and graduate research assistant at West Virginia University's (WVU) Mining Engineering Department. He is conducting multidisciplinary research combining geomechanics and computer science tools to understand stone mine pillar mechanical behaviors. His passion on geomechanics has led him to a second internship at ITASCA Minneapolis, concentrating on fragmentation analysis for block cave mining projects.
Mr. Suner graduated in 2018 with a mining engineering Bachelor of Science degree from Middle East Technical University in Turkey. After graduation, he joined the Ground Control and Geomechanics Research group at WVU, where he obtained his Master's in mining engineering. He received the ARMA 2022 MS Thesis award for his research on "The effect of natural fractures on the mechanical behavior of limestone pillars: a synthetic rock mass approach application" using UDEC. His ongoing efforts are targeted at resolving complex geomechanics-related engineering problems and mitigating health and safety risks stemming from a lack of understanding of material behavior.