Introducing FLAC2D

FLAC2D represents a giant step forward for Itasca's foundational, two-dimensional numerical modeling software. As a 2D version of FLAC3D, FLAC2D combines the efficiency of FLAC and the power of FLAC3D. This will also make the user experience more consistent between the different programs and improve future development. Coming in 2022, we would like to introduce you to FLAC2D.
World, meet FLAC2D! FLAC2D ... "Hello World!"
Similar to FLAC, FLAC2D adopts a finite-volume approach and uses plane‐strain formulation. As with FLAC, models can be constructed and altered using commands and FISH, but also interactively within the Sketch Pane and the Model Pane. The Sketch Pane includes drawing, DXF import, automatic meshing, and grouping tools. The Model Pane includes interactive boundary identification, group specification, property and constitutive model assignment, zone densification tools, and will include tools for interactive creation and property assignment to structural elements. In order to avoid confusion with FLAC 8.1, FLAC2D (and all upcoming Itasca software releases) will skip Version 8 and launch as Version 9.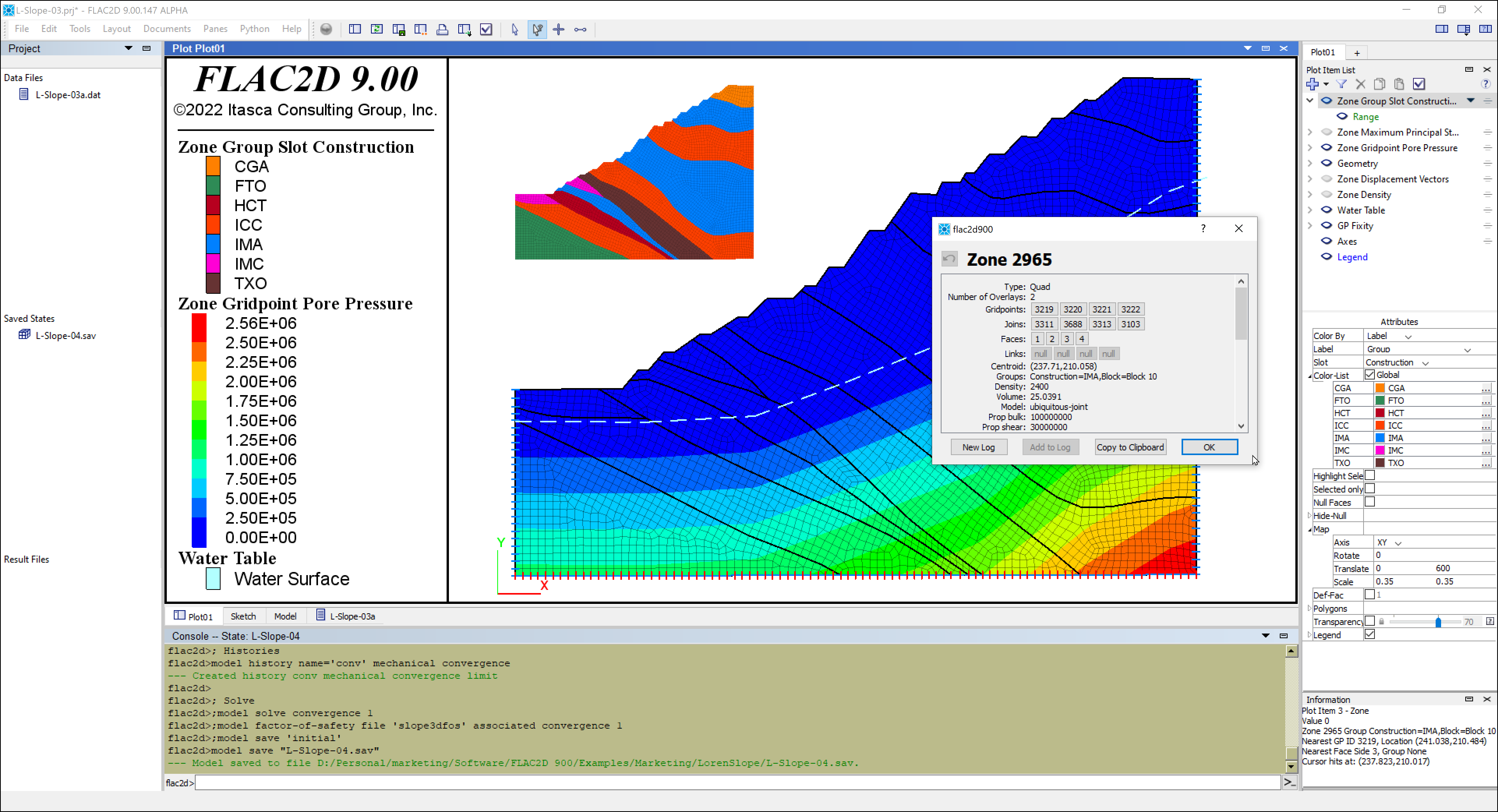 FLAC2D will be different from FLAC in several important ways:
FLAC2D does not use i, j space. Grids may be structured or unstructured, but in either, case zones and gridpoints are identified by IDs, spatial location (i.e., x,y-coordinates), or group names — rather than by i, j indexes — making it easier to learn and work with.
FLAC2D commands and FISH syntax match closely to those in FLAC3D and, in many cases, they are exactly the same, absent the z-coordinate.
Like FLAC3D, FLAC2D uses the Version 7 common framework and user interface (UI).
As part of the common framework UI, FLAC2D includes many features not available in FLAC, such as:
Improved, interactive HELP with online documentation
Multi‐threaded FISH

Python integration
Built‐in text editor with keyword highlighting, line numbering, search and replace, and more
Geometry import and use in model construction and plotting

Global FISH monitoring during cycling
Discrete Fracture Network (DFN) generation and template features

Easy coupling with PFC2D
More sophisticated and powerful plotting

Project bundles (collection of project files)

Results files (limited data files smaller than Save files)
More built-in FISH functions, including email functions
Linux version

FLAC2D will also be released with new, Version 9 features, including:
Maxwell damping for faster dynamic modeling

New and faster implicit saturated-fluid/thermal solver
Simplified coupled fluid-flow mode (no saturation mode)
Any FLAC3D constitutive models suitable for plane-strain
And more. . .
Options available in FLAC2D 9.0 include:

Dynamics
Creep
Thermal
C++ User-Defined Constitutive Models
Frequently Asked Questions (FAQs)
How many instances of FLAC2D can I run?
A FLAC2D license will permit two instances to run on the same computer.
What licenses are available for FLAC2D?
TYPE: Desktop, network, web, and node-locked licenses
TERM: Perpetual, annual, and monthly leases
How much will FLAC2D cost?
FLAC2D 9.0 will be sold at a price comparable to FLAC 8.1. Owners of FLAC may upgrade to FLAC2D, and owners of FLAC 8.1 that have pre-purchased the next version (or plan to) will receive FLAC2D 9.0. Anyone purchasing a new FLAC2D license may also request a FLAC 8.1 license at no additional cost.
What support is available to help me transition from FLAC 8.1 to FLAC2D 9.0?
In order to help our users transition from FLAC to FLAC2D, and as some FLAC features will not be available initially (e.g., two‐phase flow, remeshing), anyone purchasing FLAC2D may also request a FLAC 8.1 license at no additional cost.
Technical support will continue to be offered for FLAC 8.1 until one year after FLAC2D 10.0 is released.
Itasca Minneapolis will also organize an online training webinar series for FLAC2D shortly after it is officially released, with videos available online afterwards.