Meet Our Summer Interns
Itasca is pleased to welcome three graduate student summer interns to Minneapolis: Heba Ali (Rensselaer Polytechnic Institute), Sanshrit Singhai (Georgia Institute of Technology), and Mustafa Can Suner (West Virginia University). Heba and Sanshrit are working on software development projects while Mustafa Can is working on mining engineering consulting projects.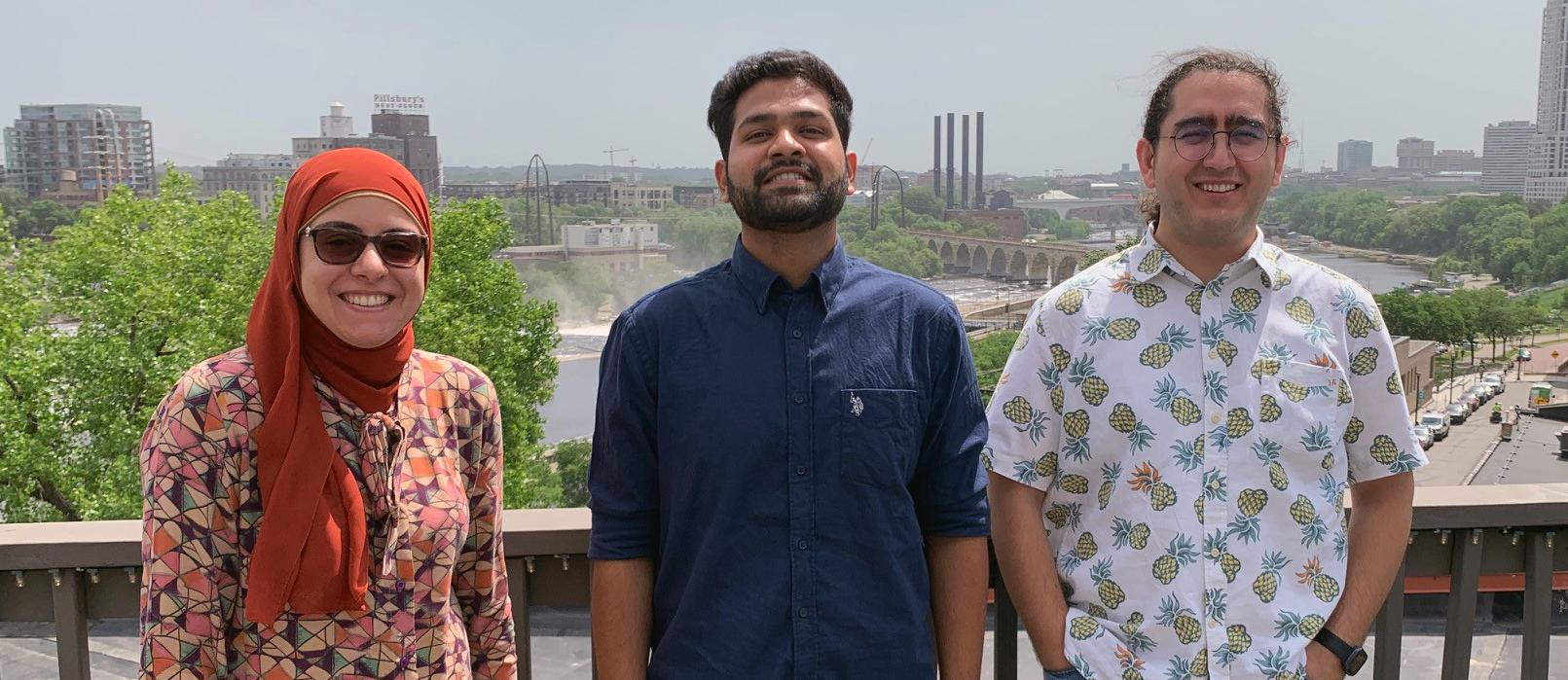 Heba Ali (Rensselaer Polytechnic Institute)
Heba is a PhD student at the Civil and Environmental Engineering Department at Rensselaer Polytechnic Institute. She is pursing her degree in Geotechnical Engineering under the supervision of Professors Tarek Abdoun and Ricardo Dobry. She is working under the framework of a National Science Foundation (NSF) grant titled "Developing a Fundamental Understanding of K-sigma for High Confining Stresses under Field Conditions". Her research is focused on understanding the fundamentals of liquefaction triggering and liquefaction resistance at high overburden pressure, numerically using FLAC and experimentally using centrifuge modeling. Through her career, Heba aspires to utilize advancements in Information Technology and Data Analytics to create tools that can enhance geotechnical engineering education, research and practice.
Sanshrit Singhai (Georgia Institute of Technology)
Sanshrit is involved in Machine Learning and is pursuing his MS in Computational Science and Engineering under the tutelage of Dr. Chloe Arson. He works at the intersection of Artificial Intelligence and Machine Learning research as demanded by his focus on developing an AI toolbox for subsurface exploration that can be deployed through unmanned robots for potential extraterrestrial use cases. Bringing a technical acumen in geomechanics, Sanshrit will be developing Discrete Fracture Network widgets for FLAC3D and will be fine-tuning the performance of the ML models at Itasca Minneapolis over the summer. He is also highly active in the research community and is a technical reviewer for the International Journal of Geomechanics published by the American Society of Civil engineering.
Mustafa Can Suner is a PhD student and graduate research assistant of the Mining Engineering Department of West Virginia University. He is working under the supervision of Dr. Ihsan Berk Tulu. Mr. Suner graduated in 2018 with a mining engineering Bachelor of Science degree from Middle East Technical University in Turkey. After graduation, he joined Dr. Tulu's Ground Control and Geomechanics Research group, where he obtained his Master's in mining engineering. Currently, he is working on developing a Python-based code-routine to automatically characterize rock masses in underground mining environments by using 3D point clouds acquired by active remote sensors (i.e., LiDAR). He would like to build his academic and professional career on geomechanics where he can combine theoretical knowledge and practical applications with the usage of multi-disciplinary tools to solve complex engineering problems to decrease the health and safety concerns arising from the lack of understanding in material behavior.