Jun 25, 2023 - Jun 28, 2023
57th US Rock Mechanics / Geomechanics Symposium
The annual rock mechanics / geomechanics symposium encompasses all aspects of rock mechanics, rock engineering, and geomechanics, with a focus on fundamental, practical, and educational issues facing our profession.
We invite you to stop by Itasca's booth and see us at the American Rock Mechanics Association's 57th US Rock Mechanics / Geomechanics Symposium in Atlanta, Georgia June 25th -28th, 2023. In addition to being a Platinum sponsor and exhibitor, Itasca Consulting Group is proud to announce that we are supporting ARMA 2023 by providing a keynote presentation, leading sessions, conducting a short course, and presenting new research in the fields of hydraulic fracturing for cave mining pre-conditioning and simulating blasting using machine learning.


Short Course: 'Introduction to Machine Learning in Geomechanics' on Sunday, June 25th from 1pm - 4pm. Led by Wei Fu and Chris Thielsen. Register Here.

Keynote: 'The Joy of Geo-mechanical Modeling' on Monday, June 26th at 10am by Dr. Christine Detournay, Principal Engineer

Session: 'Rock Mass Classification and Data Uncertainty' on Monday, June 26th at 8am - session chaired by Dr. Varun, Senior Geomechanics Engineer (and ARMA organizing committee member).

Session: 'Rock Mechanics of Cave Mining' on Tuesday, June 27th at 8am - session chaired by Dr. Miguel Fuenzalida, Principal Geomechanics Engineer.

Session: 'Numerical Modeling for Mining Applications' on Wednesday, June 28th at 10am - session chaired by Dr. Tryana Garza-Cruz, Principal Geomechanics Engineer.

Presentation: 'Blast Movement Simulation through a Hybrid Approach of Continuum, Discontinuum, and Machine Learning Modeling' by Dr. Wei Fu, Dr. Jason Furtney, and Dr. Jorge Valencia. Presented by Dr. Wei Fu.
---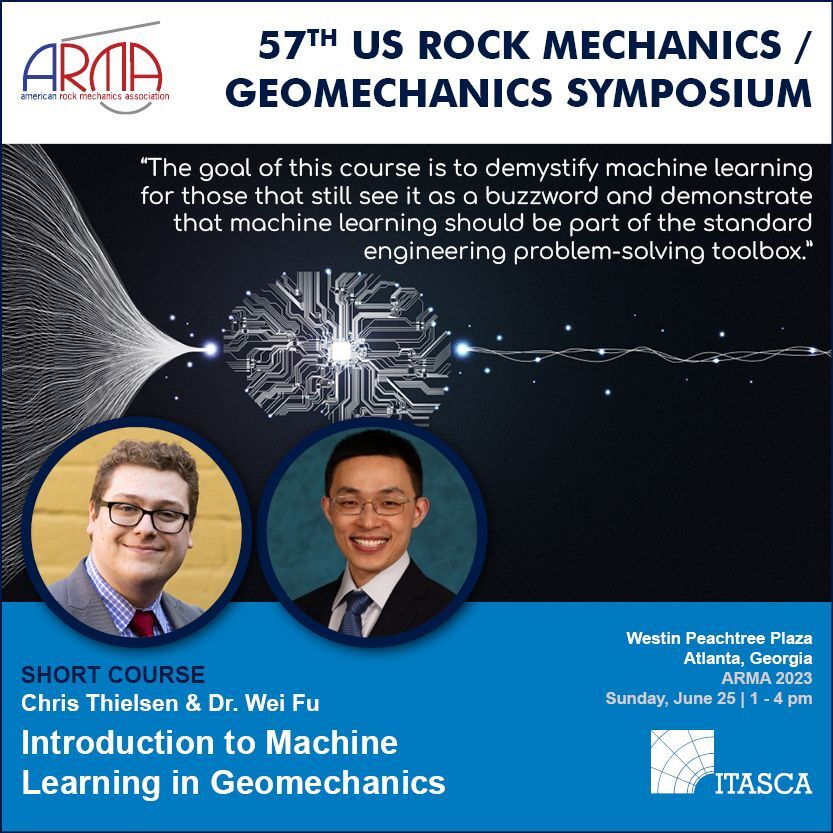 ---